******************************************
Thank you for visiting our website!
We are open all year!
Enjoy a Warm wood stove fire place, a snuggly queen bed, hot chocolate coffee, and your Netflix or good book! Maybe a beach front campfire!
******************************************
"How wonderful to spend our honeymoon in a place comparable
to heaven. We can hardly wait to return to this charming place,
...spectacular island...and such friendly people."
- -from our guest book
Our home, cabins (Heather and Primrose), and beach cottage (Willow) are situated on three lovely acres along our own private beach. Spacious lawns, flower gardens and woods overlook the water and islands of Westsound. The charming little cabins were built in the early 1900's in a simple Cape Cod style. We have restored them into perfect honeymoon or private retreats with fluffy pillows, comfy furnishings and gorgeous views.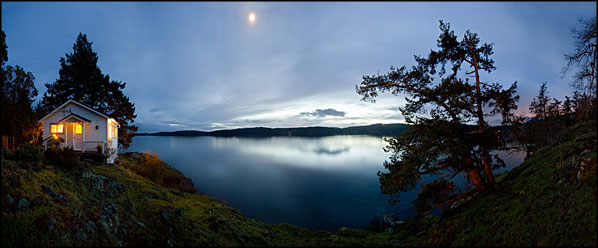 The cabins are comfortable and inviting, and each offers its own unique details. Everything, with the exception of your food, is provided. A two person hot tub, nestled among the trees, is secluded overlooking the water, for Heather and Primrose guests. Our private beach invites you for a beach fire, clamming, or a lazy picnic. Our dock is available for your boat by arrangement. Weddings on the point are beautiful.
Orcas Island offers exploring adventures for every taste: local artists display their work in shops and galleries around the island. Enjoy a vast array of homemade foods, from fresh seafood to scones to soup in the wonderful bakeries, cafes, and restaurants.
Take a hike through the forest along mountain trails or around the lakes in our famous Moran State Park. Or take to the water on a whale watching boat, kayak, or an afternoon sailing charter.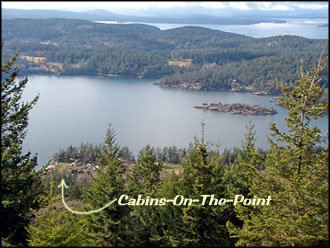 The Turtleback Mountain Preserve trailhead is a short walk from the house. You can be "on top of the world" in serenity within the hour.
"...The magic of this place...
is that it feels like a personal, exclusive,
private spot to each who come here
for each, it is 'their' cabin on the point!"
--from our guest book
We are open all year. We have a two night minimum in winter and a three night minimum in summer. No smoking or pets please.
Please use the Contact Us button for Inquiries and Requests.
We will respond as soon as possible, usually within 48 hours, by email, text or phone. We check messages often. Due to staff shortage we do not have regular phone and office hours. We are helping guests and gathering the kayaks.
We look forward to serving you. Thank you for your understanding during this time of high contact volume. Cheers, Thanks and Good Wishes.
Cabins-On-The-Point
2101 Deer Harbor Rd.
Eastsound, WA 98245


Home | Contact Us | Heather Cabin | Primrose Cabin | Willow Cottage
Westsound House | Weddings on the Point